August Book Haul
This past month, I went through many things so book buying was at the bottom of my list. I didn't even get an Owl Crate, which hurt my feelings until I saw the box…then was okay, but something is better than nothing. So here is my "list" of books that I received.

---
I was at half Price Book Store picking out books because I was being gifted. I honestly didn't know what to get because my budget was 20 bucks so whatever I wanted to get had to be worth it. I saw Erin Watt's new book but I didn't get that one because…15 bucks. So, as I was browsing I saw this book and I have heard someone discuss it before but couldn't remember who and I thought the cover was dope! I would pretend like I know when I am going to read it, but I know that I would just be telling y'all lies. I do plan to read it though!
---
Let me tell you what had happened. I saw a book called Confessions of a High School Hater? and I loved the cover and just wanted to get it because it looked like such a fun read! It also fit within the budget considering how "expensive" Uprooted was. So I thought, "I got this! 2 books, no problems!" Then I looked up and saw this book. Please understand Ender's Game is my all time favorite science fiction novel, so when I saw this book I literally had a Tina moment. I kid you not, I stood there like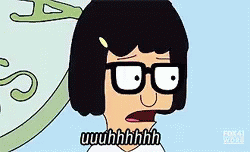 I obviously made a choice though.
---
I won something from Goodreads! FINALLY!I wanted this book because in my head I'm like 5 and I need to be way more organized!
---
Thus complete my August Haul. I know, you're proud. Next month, you may not be as proud…
Ciao Book THOTS